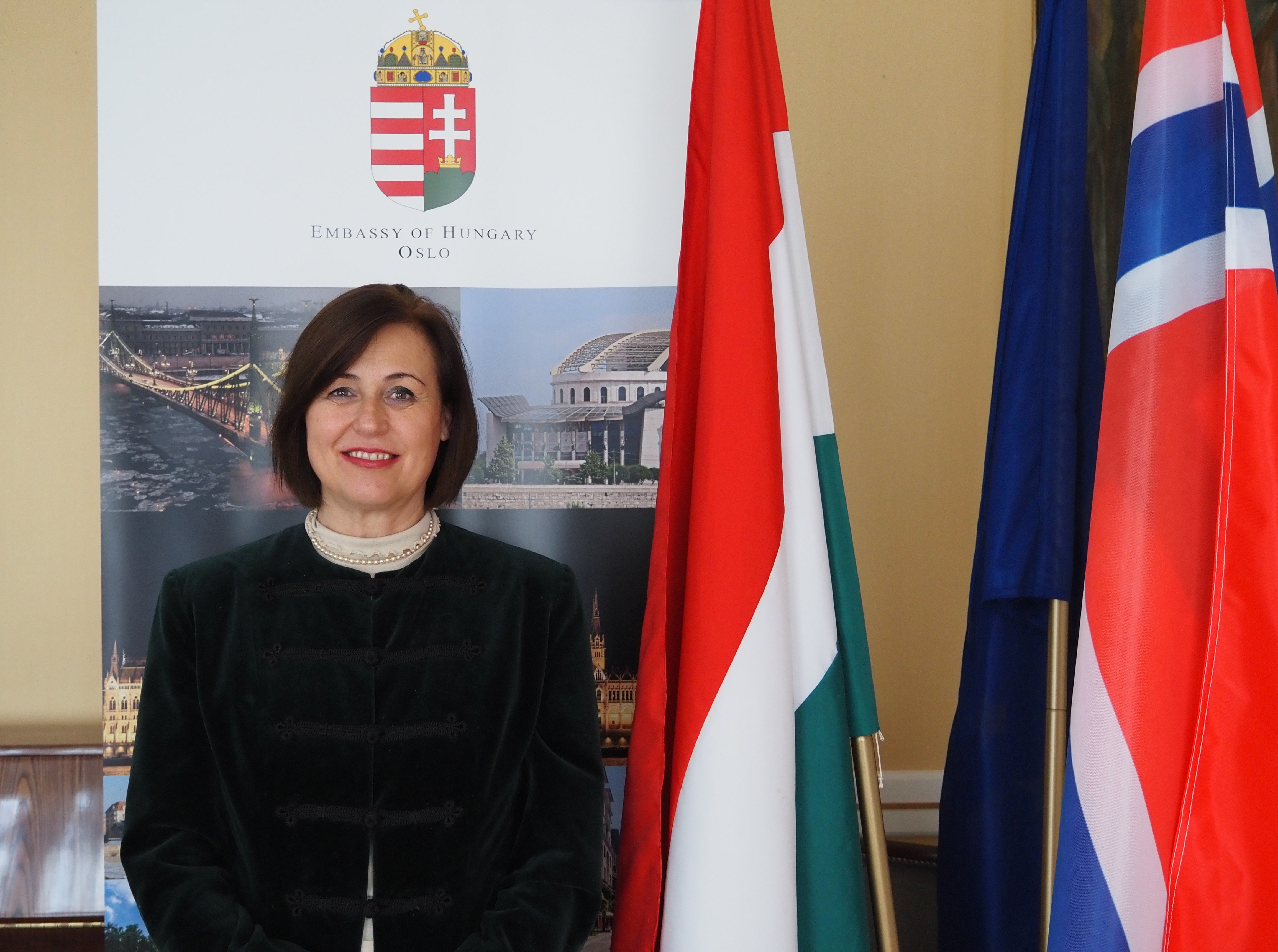 Dear Visitors,
I welcome you with love and respect on the website of the Embassy of Hungary in Oslo. It was a great honour for me to be able to present my Letters of Credence, signed by President of Hungary, János Áder, to His Majesty King Harald V on 6 May 2021.
As Ambassador Extraordinary and Plenipotentiary of Hungary to Norway and Iceland, my priority is to further build and deepen diplomatic, cultural and economic relations between Hungary and these two countries.
I am convinced that our shared principles, our strong alliance in NATO and the EU/EEA framework provide an excellent basis for a closer cooperation to meet the political, economic and social challenges of our time. Despite the geographical distance, our goals are the same: to preserve a peaceful, stable, secure and economically prosperous Europe for our children and grandchildren. The key issues for our countries are the conscious management of our resources, the protection of climate and environment, and the maintenance of sustainable development, by which we can ensure not only our present but also our future existence.
The Norwegian companies present in Hungary or the Hungarian companies doing business in Norway show our continuously developing economic and trade relations, and the growing interest in each other. At the same time, there are still untapped opportunities in many areas of trade and tourism regarding our countries. Together with the Hungarian-Norwegian Chamber of Commerce (HNCC), established in 2016, I would like to support Hungarian and Norwegian companies to implement successful business projects with each other.
Norway provided asylum to about one and a half thousand Hungarian families during the Revolution of 1956. Since the end of socialism, our compatriots have been arriving in peaceful conditions, for marriage, study or employment. The Hungarian diaspora living here is an extremely close and valuable link between our countries, as they represent the traditions and cultural heritage of Norway and Hungary in the most authentic way in both directions. One of my goals is that our embassy and our consular office become a living, helpful link and a meeting point for all of you.
The most profitable investment for the future is the promotion of international education and studies for young people. That is why Hungary continues to welcome Norwegian students willing to study in our country, for which the EEA co-operation also provides an excellent framework.
In recent years, interest in Hungary's colourful tourist and leisure programs, high-quality gastronomic offer, has also intensified in Norway, which is attracting more and more visitors. At the same time, more and more Hungarian tourists wish to visit the fjords near Oslo and see the stunning natural beauties of Norway.
The pandemic, which has been going on for more than a year, has unfortunately halted this development process, but has not stopped it. I am confident that, thanks to the vaccination that creates protection, we will soon be able to get our old lives back and travel freely again, whether for diplomatic, business, academic or family reasons, or just to admire the values of Norway and Hungary.
Thank you very much for visiting our website. I sincerely hope we will stay in touch and we can help you in the future.
I wish you good health!
Eszter Sándorfi
Ambassador of Hungary